Service and Parts
Parts
Service

Stoney Trail Mazda doesn't only sell cars - we are committed to building a life-long relationship with you. It starts from the minute you step into our facility, and continues long after you drive away with your vehicle. That is why we offer a complete service and parts experience.
Our service technicians are professionals who have full access to the latest technology to repair your vehicle. They are also trained to provide genuine Mazda service to ensure your satisfaction and to maintain your vehicle's performance. So, whether you need an oil change, new tires, general maintenance, or a simple checkup for your peace of mind, Stoney Trail Mazda's service facility welcomes you and your car.
As for parts, we carry original equipment and the best Mazda parts in Calgary to ensure that your car's quality and performance are never compromised. We have all the necessities, from tires to windows, as well as eye-catching accessories that can turn heads wherever your vehicle goes. You can take your pick from our parts inventory or ask our Mazda Canada experts to help you find the best accessories to enhance your car's performance and appearance.
So, don't deprive your Mazda from the excellent service and wide range of parts Stoney Trail Mazda has to offer. Get in touch with our representatives today for the full Mazda experience.
Maintenance Schedule

Trust Stoney Trail Mazda to take the necessary care of your Mazda vehicle that it rightly deserves. Scheduled service requirements were developed expressly for Canadian driving conditions, and your Mazda requires proper servicing every 8,000 kilometres or every 4 months, whichever occurs first. However, as conditions and driving habits may vary, more frequent replacement of wear components, as well as shorter maintenance appointment intervals, may become necessary in order to ensure your Mazda drives at its best.
To view your vehicle's scheduled services, select your model.
Detailing

BRONZE PACKAGE
Complete hand washing and drying of the vehicle exterior including door and trunk opening
Power washing of wheels and inner fender
Interior cleaning including vacuuming of seats, carpets, and floor mats, as well as cleaning of glass and instrument panel
Deodorizing of vehicle interior (optional by request only)
SILVER PACKAGE
Complete hand washing and drying of the vehicle exterior including door and trunk opening
Power washing of wheels and inner fender
Interior cleaning including vacuuming of seats, carpets, and floor mats, as well as cleaning of glass and instrument panel
Vacuuming of the trunk
Shampooing of floor mats, seats or carpets, and spot shampooing of stains
Treatment of interior and exterior rubber and vinyl trim
Deodorizing of vehicle interior (optional by request only)
GOLD PACKAGE
Complete hand washing and drying of the vehicle exterior including door and trunk opening
Power washing of wheels and inner fender
Interior cleaning including vacuuming of seats, carpets, and floor mats, as well as cleaning of glass and instrument panel
Vacuuming of the trunk
Shampooing of floor mats, seats or carpets and spot shampooing of stains
Two-step paint restoration process to eliminate minor paint imperfections and restore factory paint finish luster - includes machine polishing and paint finish sealant
Treatment of interior and exterior rubber and vinyl trim
Shampooing and degreasing of engine compartment and lower body
Complete interior shampooing of fabric seats, carpets, floor mats, and door pane
Application of fabric protectant or leather conditioner on interior fabric or leather surfaces
Deodorizing of vehicle interior (optional by request only)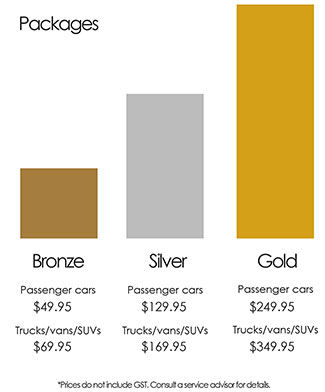 Additional Services:
INTERIOR SHAMPOO
Interior cleaning including vacuuming of seats, carpets, and floor mats, as well as cleaning of glass and instrument panel
Shampooing of floor mats, seats, or carpets, and spot shampooing of stains
PASSENGER CARS START AT $109.95
TRUCKS/VANS/SUVS START AT $149.95
EXTERIOR WASH & FALL-OUT REMOVAL
Complete hand washing and drying of the vehicle exterior including door and trunk openings
A Clay Bar is used to remove contaminates from the surface of your paint leaving your paint silky smooth
Paint restoration process to restore factory paint finish luster - includes power polishing and paint finish sealant
PASSENGER CARS START AT $209.95
TRUCKS/VANS/SUVS START AT $249.95
3M PACKAGES
We install 3M Paint Protection Film, which is a great way to add value to your vehicle and protection from stone chipping and abrasion
STARTS AT $299
WINDOW TINTING
Professional installation to block out the harmful UV rays while you add great value to your car, truck, or SUV/CUV
STARTS AT $195
Order your parts