As part of our commitment to bringing you the best value for your money, we at Stoney Trail Mazda offer money saving promotions on our vehicles, services, and parts. Even if you're a new client, we encourage you to benefit from our rebates and discounts. We also recommend that you bookmark our website so that you can easily visit our regularly updated special offers and incentives page to choose from an array of Mazda promotions offered in Calgary, Alberta, or Canada.
Get the 2018 Mazda3 GX Today!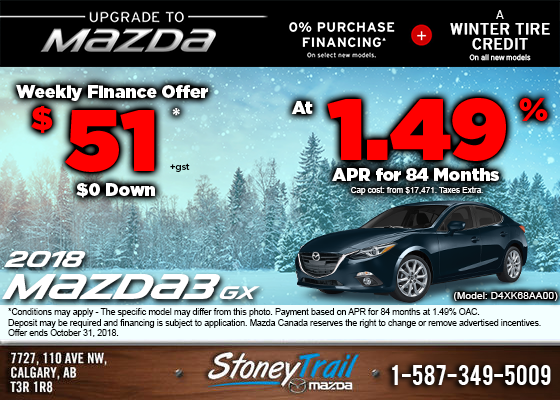 Finance a 2018 Mazda3 GX starting from $51 a week!
at 1.49% APR for 84 months - and no cash down!
Hurry up though -- this offer ends October 31, 2018, so act fast!
Some conditions may apply.
Hurry up and book a test drive today!
Click on one of the special offers below!