As part of our commitment to bringing you the best value for your money, we at Stoney Trail Mazda offer money saving promotions on our vehicles, services, and parts. Even if you're a new client, we encourage you to benefit from our rebates and discounts. We also recommend that you bookmark our website so that you can easily visit our regularly updated special offers and incentives page to choose from an array of Mazda promotions offered in Calgary, Alberta, or Canada.
1st-Time Mazda Owners Program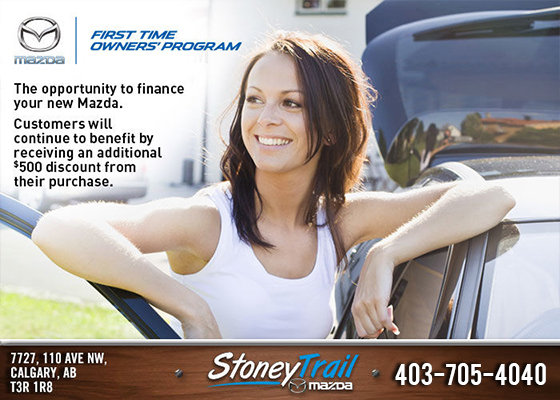 Program requirements
No prior auto finance or lease experience
Candidates with no prior automotive finance history and have no derogatory credit (no delinquencies, no charge-offs or judgments)
Proof of income
Recommended but not required
Prior credit history
Reasonable down payment ($500)
Vehicle eligibility
This program applies to new Mazda3 Sedan, Mazda3 Sport, Mazda5, Mazda6, CX-3, CX-5, CX-9, MX-5 vehicles only and Certified Pre-Owned vehicles.
New 2017 and 2018 Mazda3 Sedan, Mazda3 Sport and CX-3 customers also benefit from the program by receiving an additional $500 discount off their purchase. This program can also be used in conjunction with all other incentive programs, including the Mazda Graduate Rebate.
Mazda Canada Inc. reserves the right to modify or discontinue any part of this program at any time.
Mazda Canada Inc. reserves the right to withhold payment for any claim deemed to be non-compliant with program requirements and guidelines.
Click on one of the special offers below!