The Mazda 2 is About to Get a Whole Lot More Dynamic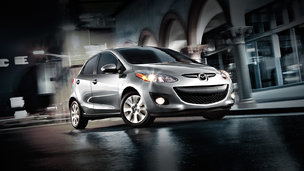 The Mazda 2 has done very well since it launched a couple of years ago. But as with any model, there comes a time when it has to be replaced. Although Mazda has not confirmed anything, it did showcase a subcompact concept called the Hazumi at last month's Geneva Auto Show, and many believe it could preview the next Mazda 2.
If that is the case, Mazda is certainly on the verge of taking the rather dull subcompact segment by storm. The Hazumi concept is everything we have come to expect from Mazda in recent years, ever since the Japanese manufacturer unveiled the Mazda CX-5 two years ago.
The Mazda 6 followed a short time later with the Mazda 3 being the most recent iteration of Mazda's new design philosophy. What the automaker's new styling trend does so well is take usual segment-specific styling conventions and flips them on their head, making cars that are capable of turning heads within categories that usually do not have much to offer in terms of visual appeal.
The Hazumi concept is certainly visually appealing. Based on the KODO signature design, it features a prominent grille, aggressive headlights, sculpted body panels and powerful-looking wheels. It also appears massive, a feature which breaks with subcompact tradition.
Mazda has yet to announce if the Hazumi concept is in fact destined for production. And although Mazda did announce that the Hazumi is powered by a diesel version of the SkyActiv engine, it is more likely that the next Mazda 2 would get some sort of gasoline-powered SkyActiv motor.
While we are waiting to learn more about the Hazumi's future, why not come down to visit us today and test drive the current Mazda 2? It will still be with us for a while, and it is still a blast to drive!