The All-New Mazda2 Unveiled in Canada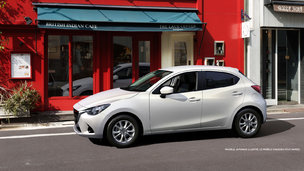 In fact, there are five models if you count the Mazda MX-5 unveiled last year. In terms of sales figures however, the new Mazda2 is a much more important model.
The new generation that will replace the current Mazda2 will have the difficult task of imposing itself in the popular and crowded subcompact vehicle segment. These cars are popular in Canada, notably because of their impressive fuel economy, but also because of their agility around town and the ease they offer when it is time to park. If we want a fuel-efficient vehicle that is also easy to drive, the Mazda2 should certainly be considered.
That being said, it is rare that one associates driving pleasure with subcompact cars. Mazda, however, wants to change that with the new Mazda2 by promising that it will actually be sporty and fun to drive. Indeed, Mazda is clearly targeting shoppers who want to have fun driving their small car. And because Mazda has built up a reputation when it comes to building cars that are a blast to drive, there is no reason to believe the Japanese manufacturer will not be able to deliver.
The Mazda2 will be powered by a four-cylinder, 1.5-liter SKYACTIV-G direct injection engine. We do not yet know the power of the engine, but we know it will be possible to combine it with a 6-speed manual transmission or a 6-speed automatic. Both the engine and transmissions are built under the SKYACTIV banner. This means they are lighter and more compact while being more efficient. This allows the car as a whole to be more powerful as well as more fuel-efficient. Mazda says the Mazda2 will see its fuel consumption improved by about 20% compared to the previous generation of the car.
Inside, the cabin is simply spectacular. Sporty and sober, it makes us think of a performance car. The wheelbase of the new generation of the Mazda2 has increased by 80 mm to provide more space for passengers inside. Under the body, the SKYACTIV chassis is lighter, but also more resistant. It should allow the new Mazda2 to offer dynamic handling.
The 2016 Mazda2 will be available in GX, GS, and GT trims when it is launched on the market later this year. For more information about the new 2016 Mazda2 or the current generation Mazda2, please contact Stoney Trail Mazda today!