Production of the all-new Mazda2 has already begun!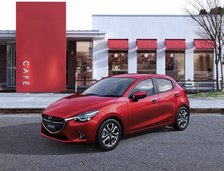 For the first time in seven years, Mazda's subcompact model has been fully redesigned. Production of the new vehicle has already begun at the automaker's Hofu Plant in Yamaguchi, Japan, where the popular Mazda2 is known as the Demio.
Following a trail of recently redesigned next-generation models in the lineup, which include the 2014 Mazda3, Mazda6, and CX-5, the all-new Mazda2 will incorporate the KODO: Soul of Motion design language, which is meant to enhance the dynamic form of the vehicle. The hatchback will also include the full range of SKYACTIV technologies.
The new SKYACTIV engines, transmissions, body and chassis are also meant to provide buyers with a subcompact car that is more secure and fuel-efficient than its predecessor. In addition, the automaker's next-generation car connectivity system, Mazda Connect, as well as i-ACTIVSENSE safety features, will be offered on the new "2."
As to what will power the all-new Mazda2, the vehicle will be equipped with a SKYACTIV-G 1.5-litre direct-injection gasoline engine. Other markets will have access to the automaker's new small-displacement clean diesel engine known as the SKYACTIV-D 1.5, and said to offer "excellent fuel economy and eco-performance while delivering torque comparable to a 2.5-litre gasoline engine."
Currently, the third-generation 2014 Mazda2 is offered with a starting price of $14,450 MSRP, and equipped with a 1.5-litre 4-cylinder engine, producing 100 horsepower and 98 lb-ft of torque. The engine is mated to a standard 5-speed manual transmission, and a 4-speed automatic is optional on both trims.
Having been launched in 1996, Mazda has presently sold over 2.4 million units globally of its subcompact vehicle. Fans of Mazda's smallest of cars can expect the hatchback to come to the Canadian market in 2015.