No more mileage anxiety with Mazda's new unlimited mileage warranty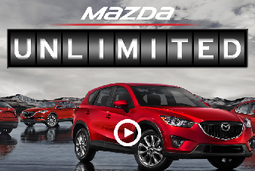 Most vehicles today are protected by both 3-year and 5-year warranties that cover most of the vehicle's mechanical components. There are also a variety of other warranties and protection plans including roadside assistance and anti-perforation that protect today's modern vehicles. That said, every warranty also comes with a mileage restriction which can be inconvenient for those of us who happen to drive long distances during the year.
That is why Mazda's new unlimited mileage warranty plans are so intriguing, and so revolutionary. Mazda unveiled it's new, one-of-a-kind, doesn't-matter-how-much-you-drive warranty recently. In total, four warranties offered on new Mazda vehicles no longer impose mileage restrictions to owners. No question, this is great news for drivers who use their vehicles for business, or just happen to drive over the standard 20 000 kilometers every year.
If we look at the 3-year New Vehicle Warranty, it protects your new Mazda from bumper to bumper. That means that most mechanical and electrical components are protected against failure in the first 3 years. With Mazda's new protection plan, owners have peace of mind knowing their vehicle will be protected for the full three year period, and not only until they reach 60 000 kilometers, which was the case previously.
The 5-Year Powertrain Warranty covers the engine, transmission, driveshaft, and other major mechanical components. The industry standard for this type of warranty is 100 000 kilometers but with Mazda's new plan, you will be protected for the entire five years, regardless of how much mileage you have on your vehicle.
Mazda also removes any mileage restrictions on their 3-year Roadside Protection Plan which means that if you stay stranded or have trouble in winter, you can call Mazda Roadside Assistance even if your vehicle has more than 60 000 kilometers. Finally, Mazda's extensive 7-year Anti-Perforation Warranty is intact, but again, mileage restrictions have been removed.
This new initiative by Mazda will help give consumers more peace of mind as they can now drive as far as they want and still be protected. It should also help improve the resale value of high-mileage, recent Mazda vehicles in the future. To learn more about Mazda's new unlimited mileage warranty, contact Stoney Trail Mazda today!