Mazda MX-5 roadster offers sleek new styling for 2016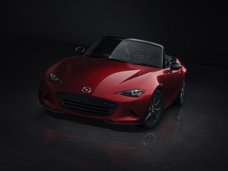 The 2016 Mazda MX-5 has undergone a full redesign, now sporting sleek new styling that falls well in-line with the rest of the newly redesigned Mazda models.
Like the Mazda3 sedan and hatchback, the Mazda6 sedan, and the CX-5 SUV, the all-new 2016 Mazda MX-5 incorporates the automaker's KODO: Soul of Motion design language. The changes can be observed via the overall more aggressive and bulkier shape of the coupe. The grille is now slightly more rectangular than "smiling" as the previous model, the nose is longer, the headlights resemble a pair of seemingly narrowed eyes, and the roadster sports a short rear deck. Overall, the Mazda MX-5 design is bolder and nicely proportioned, as well as more modern and therefore more suited to the needs and wants of today's car buyers.
Similar to other newly redesigned Mazda vehicles, the 2016 MX-5 is also lighter than its predecessor (by 100 kilograms), due to the incorporation of SKYACTIV technology. As a result, the coupe should show notable improvements in numerous facets, like improved fuel economy and performance, when compared to the outgoing model.
The Mazda MX-5 debuted at the 1989 at the Chicago Auto Show, and several years later went on to become a world success. It has been named the best-selling 2-seater sports car in history, with more than 940,000 units sold to-date. In addition, this year marks the roadster's 25th anniversary.
The all-new 2016 Mazda MX-5 will include a SKYACTIV chassis, and likely other SKYACTIV technologies, although specifications are yet to be revealed by the automaker. Rumors also suggest the PRHT, otherwise known as the Power Retractable Hard Top, will not initially be made available, and that Mazda's new roadster will include either a 1.5- or 2.0-litre SKYACTIV engine. Canadians are surely rooting for the later version.