Mazda introduces special edition MX-5 at Goodwood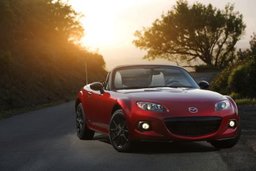 The Goodwood Festival of Speed was in full swing this weekend, and Mazda was front and center, introducing a special edition Mazda MX-5 to mark the 25th anniversary of this iconic car.
The Mazda Miata, the car that would go on to become the MX-5, was first introduced in 1989 at the Chicago Auto Show and in more ways than one changed the automotive industry for the better. It was fun car that connected deeply with driving enthusiasts and put Mazda on the map as an automaker that was capable of building cars for passionate drivers. 25 years later, the soul of the MX-5 is found in every Mazda product and in their focus on driving dynamics and Zoom-zoom pedigree.
The special edition MX-5 unveiled at Goodwood is vehicle that is reserved exclusively for British consumers, but it is closely related to the Mazda MX-5 25th Anniversary unveiled at this year's New York International Auto Show.
The engine remains the same, but the styling of the car is unique and should appeal to buyers looking to turn even more heads behind the wheel of their MX-5. The body is draped in an exclusive color called Soul Red while the retractable hard top is painted a deep shade of black. The wheels are also black while the interior features exclusive leather and trims.
Under the hood is the MX-5's traditional 2.0-liter four-cylinder good for 160 horsepower. Given the car's compact dimensions and reduced weight, it offers more than enough power to have a blast behind the wheel, special edition MX-5 or not.
The Mazda MX-5 is the heart of Mazda's driver-focused philosophy. A fun, fuel-efficient vehicle that put's a smile on anyone sitting behind the wheel. Come see for yourself how much MX-5 is in every vehicle in the Mazda lineup today by booking a test drive at your North Hill Mazda dealership!