Is Mazda planning a rotary-powered RX-7 revival for 2017?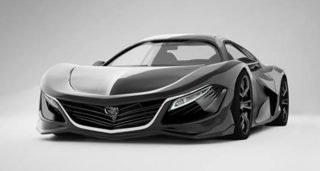 Most remember the Mazda RX-7, the automaker's rear-wheel drive 2-door sports car, for its pop-up headlights, high-revving fun, and seemingly "screaming" rotary engine. The concept of a revival has been around for quite some time, but rumours seem to be growing, enough so that the possibility seems almost…possible.
Originally, rumours suggested that an RX-7 revival would take place in 2017, as this date would mark the 50th anniversary of the introduction of the rotary engine. In 1967, Mazda's Cosmo Sport was equipped with the first-to-market, dual-rotor rotary engine, which several sources believe may appear, in some form or another, in a future RX-7-type model.
The idea does not seem so far-fetched either. In one of their news postings, Automotive News mentioned that Mazda engineers continue to research the technology, due in part because the engine works with a range of fuel types like gasoline, hydrogen and kerosene.
Digital Trends has suggested that a new version of the RX-7, to be called the RX-9, may appear in 2020 for the 100 anniversary of the company (Mazda). Digital Trends also suggests that Mazda's new RX-9 may feature a 450-horsepower, twin-rotor 16X unit (the RENESIS), which should include direct-injection, increased torque, and higher displacement.
The Mazda RX-7 was created to be a pure sports car, and appeared five times on Car and Driver magazine's Ten Best list. RX-7 enthusiasts continue to appreciate the vehicle for its stylish look and thrilling performance, therefore, many want to believe that a rotary-powered RX-7 revival is possible.