All-new Mazda CX-3 model to debut at 2014 LA Auto Show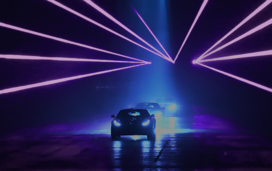 This year, Mazda has unveiled two new models: the fourth-generation Mazda2 hatchback, and the next-generation MX-5 convertible. Now, hot on the heels of these recent unveilings is yet another world premiere that is set to take place at this year's 2014 Los Angeles Auto Show; the all-new Mazda CX-3 compact crossover SUV.
The new CX-3 is an all-new model that will slot in front of Mazda's CX-5 and CX-9 SUV/CUV lineup. Like the automaker's other recently redesigned siblings, including the Mazda3 sedan and hatchback, and the Mazda6 sedan, the CX-3 new model will also feature the full range of SKYACTIV technology and Mazda's KODO: Soul of Motion design language.
In terms of the latter, the KODO design language that was originally meant to provide a sense of beauty, sophistication, and the expression of life within a vehicle, has now evolved. The new CX-3 is meant to stylistically evoke what the automaker has described as "a sharper form with an enhanced sense of speed".
As for specifications, more information regarding the automaker's new CX-3 model is yet to be revealed, and will hopefully be included in the Mazda press conference that will be held on November 19, 2014, between 10:30 and 11:55 A.M. local time at the Los Angeles Auto Show.
Rumors suggest the vehicle will be equipped with a SKYACTIV-G 2.0-litre 4-cylinder engine that is currently found in the popular Mazda3 model. Autonet.ca also expects the new CX-3 to use the same platform as the all-new Mazda2 hatchback, and to use elements from both the Mazda2 and Mazda3 vehicles.
Also set to appear at the 2014 L.A. Auto Show is the all-new Mazda MX-5 roadster. Enthusiasts of the small rear-wheel drive coupe will have the opportunity to browse the new model, which the automaker says will be fitted with a SKYACTIV-G 2.0-litre gasoline engine in North American models.
The 2014 Los Angeles Auto Show will be open to the public from November 21 through 30, with press days taking place from November 18-20, 2014.