A Lot Happened for Mazda in 2014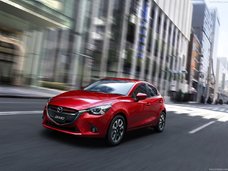 2014 was great for Mazda as the manufacturer made headlines for all the right reasons this year. Indeed, the Japanese manufacturer introduced a brand new model as well as the next generation of two popular vehicles, and also introduced a breakthrough warranty that will set the bar for other automakers. Finally, Mazda sold more than 68 000 vehicles as of December 1 and should finish the year with an increase in sales.
A new model
Last November, Mazda unveiled the Mazda CX-3, a particularly exciting model that should be quite popular when it launches on the market sometime in 2015. The CX-3 is a subcompact SUV that will become the most affordable sport utility vehicle in the Mazda range, just below the Mazda CX-5. The CX-3 displays a dynamic and sporty silhouette and a beautiful interior. SKYACTIV powertrains and driving pleasure will surely be part of the CX-3's package.
Unlimited mileage warranty
A first in the automotive industry, ¸Mazda's unlimited mileage warranty was a big hit for the Japanese automaker in 2014. All 2015 models offered by Mazda, even those sold before the announcement of the new warranty program, are now protected for the duration of the respective protection warranties (base, powertrain, anti-perforation, roadside assistance) without any limitation in the number of kilometers on the odometer. This is great news for the resale value of Mazda products, and also happens to be a convincing promise of quality and reliability.
100,000 vehicles produced in Mexico
Mazda managed to establish vehicle production in Mexico with great results, having reached 100,000 vehicles manufactured in Mexico very quickly. Mazda will eventually produce 250,000 vehicles in Mexico including the Mazda 2 and Mazda 3.
The introduction of a new Mazda MX-5
The arrival of the latest generation of the Mazda MX-5 is good news for any sports car enthusiast. The MX-5 is an automotive icon, and the new generation is impressive both in terms of aesthetics and mechanics. Indeed, the Mazda MX-5 will be offered with a SKYACTIV engine and chassis while its silhouette manages to retain the remarkable style of Mazda's small roadster while being much more modern.
The new Mazda 2
The redesigned Mazda 2 will definitely be very popular in Canada. It will offer even more impressive fuel economy, a more dynamic appearance thanks to the KODO design language, sporty handling worthy of Mazda, and more space inside.
No doubt, 2014 was a good year for Mazda and 2015 should be even better!