2014 Mazda Mazda3 – There's a reason it's a winner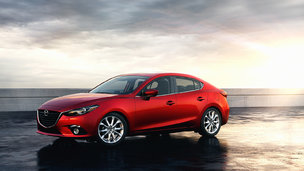 Motor Trend recently published an article named The Big Test, in which it compared a list of 2014 compact sedans. Among the seven competitors in the segment, the 2014 Mazda3 walked away as the 1st place winner.
There's a reason why the Mazda3 won, and why it was awarded the title of Best New Small Car Under 21K by AJAC. It would appear that the manufacturer has a recipe for success.
The 2014 Mazda3 was the victor in most categories of the comparison. The handling of the vehicle when in the city was sharper than its rivals, while agility and steering earned it a straight A on twisty roads. On the highway, Mazda's compact car is a good ride. The vehicle is appreciated for the good steering and sporty handling.
And while the Mazda3 is fun to drive, it was equally acknowledged for its fuel ratings and SKYACTIV systems. The SKYACTIV technologies were created by the automaker to increase engine output and fuel efficiency. The particular model tested by Motor Trend did not include Mazda's famous i-ELOOP brake energy regeneration system, earned the highest EPA and Real MPG ratings in the group.
Inside the vehicle, Mazda's user interface again scored very well. Drivers appreciated the upscale interior, along with the user-friendly Bluetooth and phone pairing ability, combined with full Pandora compatibly. For those consumers with safety on their minds, the 2014 Mazda3 is a clear winner. It earned the TOP SAFETY PICK+ from the IIHS, along with the Top Safety Rating from the NHTSA.
As one driver put it, the Mazda 3 is "most solid, highest quality, all of one piece" of the compact cars in the comparison. The 2014 Mazda3 is a bang for your buck car, with all the goods and driving fun necessary to make it a recipe for success.